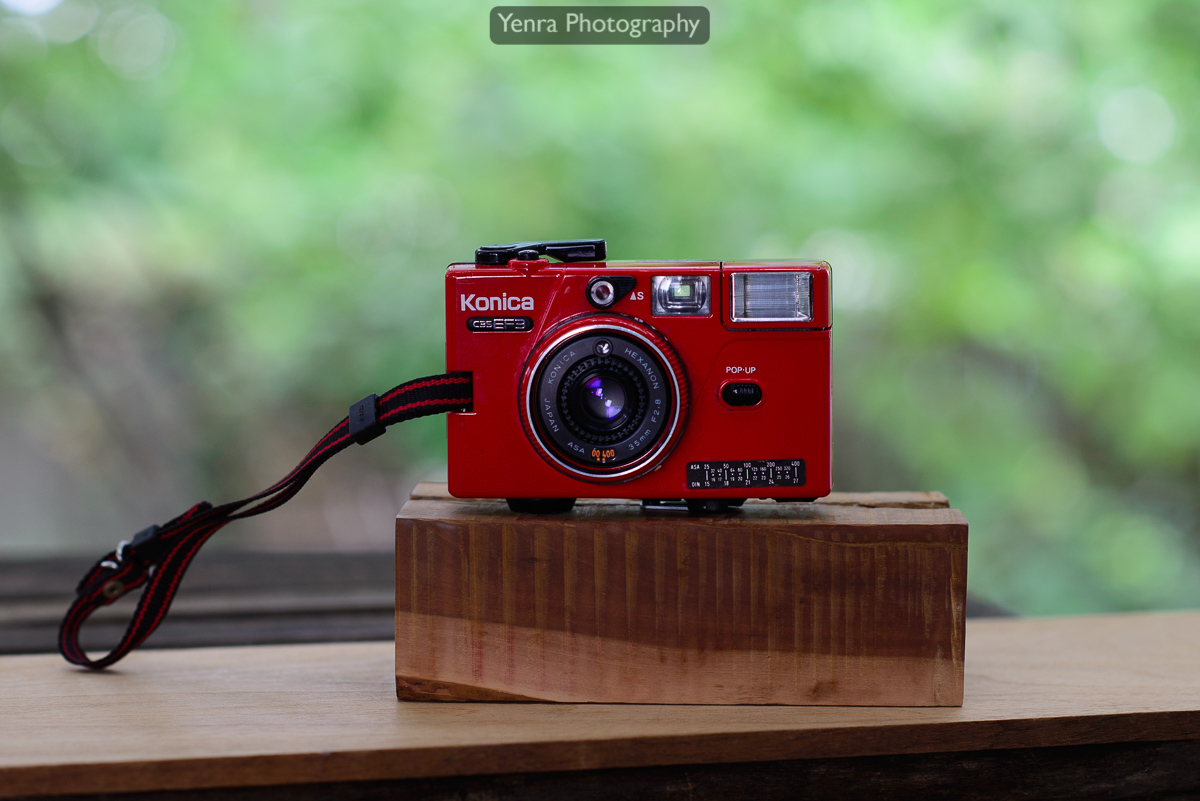 Konica 35mm film camera - Konica C35 EF3: This is the camera I bought in Oxford, England during my Junior Year Abroad, before I travelled during the breaks in the spring. I brought it to Greece and to the Lake Country of England. The Konica C35 EF3 is an automatic exposure, zone focus camera with four settings for distance. It has a built-in flash and a five-element Konica Hexanon 35mm f2.8 lens. It came out in April 1981. The lens is constituted of 5 elements in 4 groups. The aperture range goes from F2.8 to F16. It has zonefocus with 4 settings., from 1.0 m to infinity. The shutter is programmed, from 1/60 to 1/500 seconds. The film speed range is ISO 25 to 400. The meter coupling range isEV 9 - EV 17 (at ISO 100). The viewfinder is Albada type blight frame finder. It has a built-in flash of G.N.14 m (ISO100), Flashmatic. The filter thread size is 43mm. It came in 7 colors, Black, Silver, Red, White, Yellow, Blue, Blue Metallic (this one is red). It has an under exposure warning light (red-LED), electrical self-timer, and a folding rewind crank. It is powered by two AA batteries.

Keywords: camera, film, hexanon, konica
A Webdesk picture story.
Technical details about this picture: This picture is by Yenra Photography. The camera shot with was a NIKON D600. The lens was AF-S Nikkor 85mm f/1.4G. The camera profile used was Camera Vivid. The photo editing software to process this picture was Adobe Photoshop Lightroom 6.1.1 (Macintosh). The shutter speed for this pictures was 1/100. Film sensitivity was 400. Approximate focus distance was 1.12 meters. The bokeh perimeter was 0.030 mm.