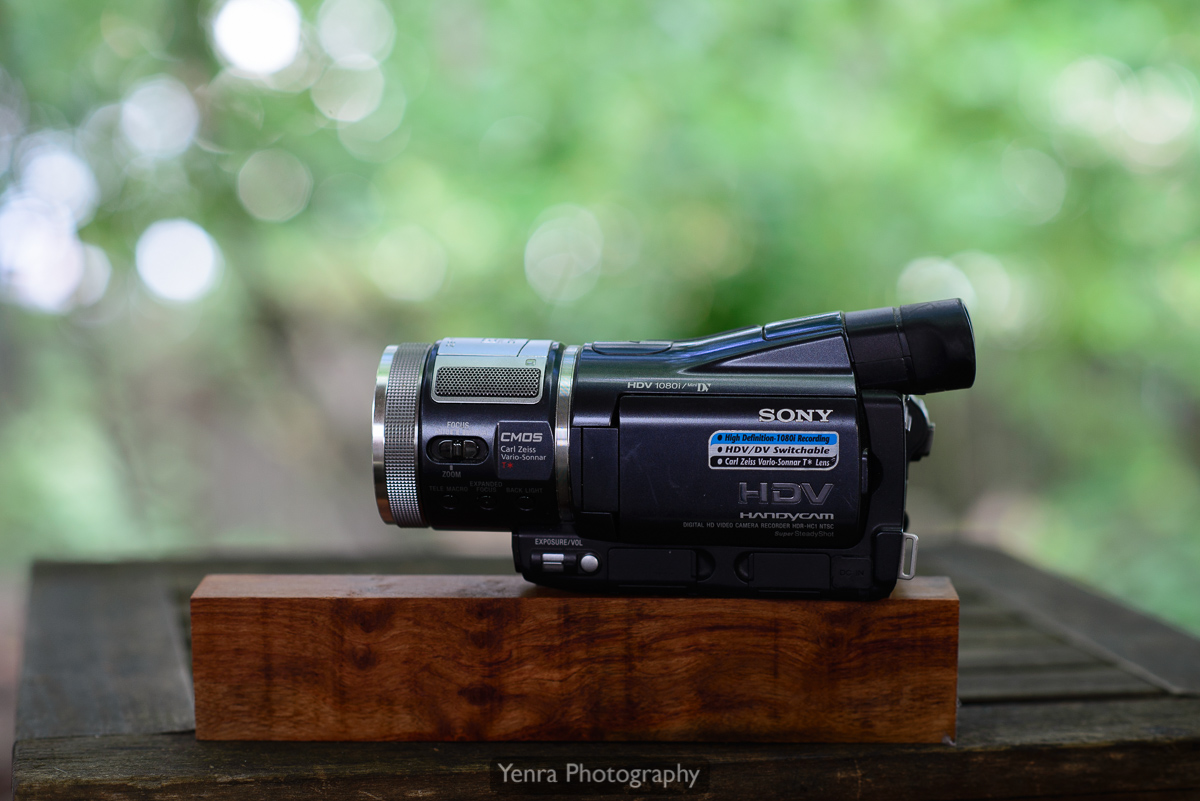 Sony HDV camcorder - Digital HD video camera recorder HDR-HC1: High definition 1080i recording; HDV/DV switchable; withCarl Zeiss Vario-Sonnar T* Lens. 1/3-inch CMOS sensor with 3.0-megapixel still-image resolution. HDV 1080i camcorder features HDV, DV (on a standard MiniDV cassette), and SD recording. 10x optical zoom with Super SteadyShot Image Stabilization. 2.7-inch hybrid touch-panel SwivelScreen LCD. Powered by InfoLithium rechargeable battery NP-FM50. Sony HandyCam, Power Adapter/Charger (AC-L15), wireless remote, InfoLithium Rechargeable Battery (NP-FM50), lens hood, lens cap, shoulder strap, A/V, USB and Component cables, Memory Stick Duo Media - 16MB. Sony's HDR-HC1 Handycam was a lightweight digital camcorder has a 2.7-inch wide hybrid, touch-panel LCD screen lets users switch between 4:3 and 16:9 aspect ratios, and onscreen access to menu options. You can even record in low-light or no-light conditions with the Super NightShot Infrared System. Other features include a built-in microphone for audio quality, an intelligent pop-up flash, and Super SteadyShot image stabilization. Lens - Carl Zeiss Vario-Sonnar T Lens Filter Diameter - 37mm Focusing - Full Range Auto/Manual(Ring)/One Touch Minimum Illumination - 7 lux Image Stabilization - Super Steadyshot White Balance - Auto/Outdoor/Indoor/One-Push Automatic Iris Control Super Low Light capability Active interface shoe Video in/out (multi) Audio in/out (stereo, multi) USB port (1.1) and i.LINK(R) DV interface (IEEE1394) Stereo Mini headphone jack & mic input.

Keywords: handycam, hdv, sony, videocamera
A Webdesk picture story.
Technical details about this picture: This picture is by Yenra Photography. The camera shot with was a NIKON D600. The lens was AF-S Nikkor 85mm f/1.4G. The camera profile used was Camera Vivid. The photo editing software to process this picture was Adobe Photoshop Lightroom 6.1.1 (Macintosh). The shutter speed for this pictures was 1/100. Film sensitivity was 400. Approximate focus distance was 1 meters. The bokeh perimeter was 0.030 mm.